January 6, 2022
Dear Fourth District Constituent,
It is a great honor and responsibility to serve our country as a Member of Congress representing the people of Minnesota's Fourth Congressional District. Today I want to speak directly to you - my constituents - as we mark the one-year anniversary of the January 6, 2021 attack on the United States Capitol.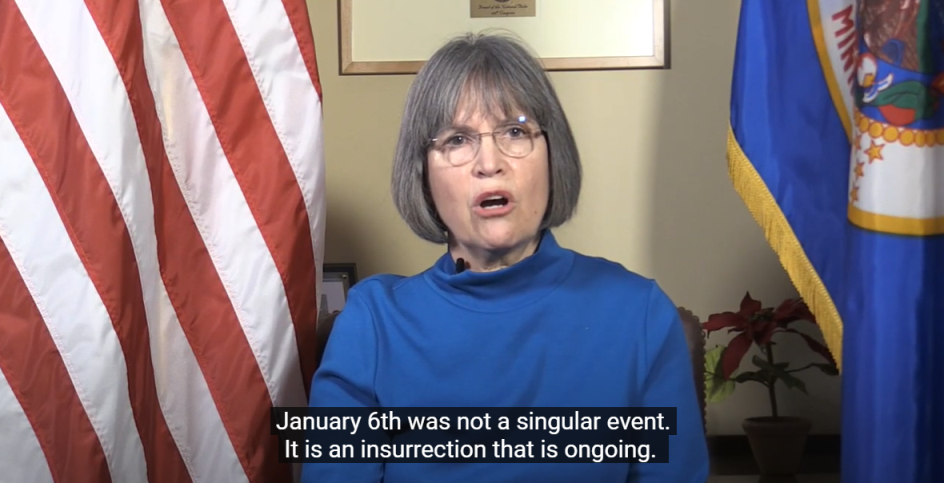 Watch a video of Congresswoman McCollum's statement on YouTube here.
One year ago, I was in the Capitol as it was being attacked. I was with a new member of my staff - her second day on the job - and we were trapped in the tunnel system under the Capitol. Fortunately, we were able to find refuge in Senator Tina Smith's office and spent hours of uncertainty with a very kind member of Senator Smith's staff. Footsteps away, a violent mob of insurrectionists, inspired and directed by former President Donald Trump, attacked U.S. Capitol police, invaded and defiled the most sacred spaces in our Capitol, and attempted to prevent Congress from fulfilling its duty to certify the Electoral College results declaring Joe Biden the President of the United States.

This attack was an attempted coup, and it did not happen spontaneously. It was designed to keep Donald Trump in the White House and betray the legitimate, free, and fair outcome of the 2020 presidential election. Today, we reflect on that day - but the truth is that the insurrection against our most fundamental American democratic principles is ongoing. Our democracy is in danger. We are now faced with a Republican Party that is advancing an authoritarian political agenda focused on disenfranchising voters - particularly people of color - and sabotaging voting rights across the country, with more than 40 states introducing or passing into law measures to suppress the right to vote.

The root of this authoritarian movement is Donald Trump and his Big Lie that he won the presidential election. This Big Lie is now the platform of the mainstream Republican Party and at the root of the anti-democratic, violent, extremist behavior that threatens our society. We can point to examples from over the past year of civil conduct deteriorating and eroding democracy: gun-toting mobs in state capitols intimidating lawmakers; violent outbursts at school board meetings; metal detectors in place to keep Members of Congress from bringing guns into the House chamber.

After the House of Representatives concludes its investigation into the events surrounding January 6, I strongly believe all individuals responsible for planning, inciting, and carrying out the attack must be indicted, prosecuted, and if found guilty, sentenced to prison time. This includes the former president and senior officials in the Trump administration.

As Americans, and as Minnesotans, we must remain vigilant. We must fight the misinformation and lies that are being used as political weapons to sow divisions and discord in our country. As citizens of this great nation, the burden to save our democracy falls on all of us.

As a United States Representative, I take an oath of office and I pledge to you that I will live up to the duty and responsibility associated with that oath. Every day I serve you in Congress I work to 'protect and defend the Constitution from enemies foreign and domestic.' The challenges to our democracy are real, and we must stand together as Americans to keep our country free, strong, and a land where truth matters and justice is defended.
As always, thank you for being an informed and engaged constituent.
Sincerely,





Betty McCollum
Member of Congress